How Fallon fell: why is the late-night host floundering in Trump's America?
After Fallons fluff interview with Donald Trump, The Tonight Shows ratings have plummeted and the hosts apolitical stance could be its biggest problem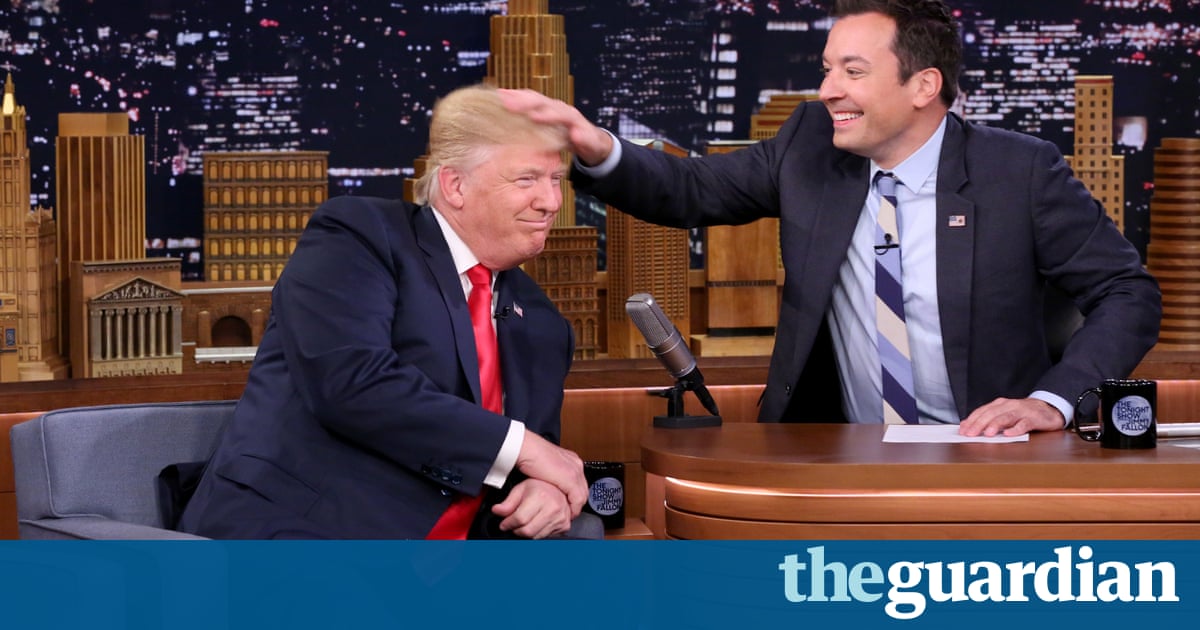 Late-night comedy wasnt always a place that digested the news the way CNN or MSNBC might, but Donald Trump has changed that. Gone are the days when late-night was a place for lite fare, its humor largely detached from the realities of current events. Even in the Nixon era, perhaps the closest analogue to the daily chaos and impropriety of Donald Trumps presidency, late-night hosts were careful not to push their personal politics. In the monologue, Johnny will attack malfeasance, illiberal behavior, constitutional abuses, Kenneth Tynan once wrote of Mr Carson, who hosted The Tonight Show from 1962 to 1992. But then compassion sets in. He was the first person to stop doing anti-Nixon jokes.
Now, another host in The Tonight Show lineage, Jimmy Fallon, is in a similar position, with the tables turned. As the host sticks to fluff and mostly apolitical humor, his ratings have nosedived in the face of his perceived neutrality. New Yorker critic Emily Nussbaum described Fallon as an enthusiast, which sounds good, until you see him spray the same gush on everything. At a time when his peers are earning points for smart rebukes of the Trump administration, Fallons self-effacing anecdotes and best-friend schtick often feel like an undercooked hors doeuvre preceding Seth Meyers acerbic political main course, which airs after him.
The ratings have proved that viewers are deserting The Tonight Show, too. Where Fallon once towered above his 11.35pm time-slot rivals, Stephen Colbert and Jimmy Kimmel, hes now in danger of slipping into third place something that was unthinkable even 12 months ago. Fallon averaged nearly 4 million viewers a night in 2015, and almost 3.5 million the year after. In 2017, hes pulling in just over 2.5 million a show, a steep drop by Tonight Show standards.
It all started in September of last year, when Fallons schmaltzy interview with the then candidate Trump found the host in hot water. Thirteen months on, the encounter seems even stranger. The interview begins with softball questions: Theres probably kids watching right now why should they want to grow up and be president? He follows those up by asking Trump if he had ever seen himself getting into politics; then he asks whats changed over the course of the campaign. The most infamous portion of the interview, of course, is when Fallon asks Trumps permission to mess up his hair. It was a lesson in how to fumble a golden opportunity and normalize a deeply unqualified, proto-fascist candidate.
If Jimmy Fallon had any credibility left as a thinking comedian with a point of view, he lost the last shred of it last night, Sonia Saraiya noted in Variety the morning after. Fallons genuflection toward Trump coincided with his ratings decline: the week of the Trump interview, he led Colbert and Kimmel both by over 1 million viewers. By the inauguration in January, he and Colbert were neck and neck. And last week, Colbert brought in 500,000 more nightly viewers than Fallon while Kimmel, after several blistering attacks on the Graham-Cassidy healthcare bill, was inching towards second place.
All of this suggests that viewers dont seem to have an appetite for Fallons happy-medium approach. And while hell still nab the occasional viral video his comments on the white supremacist violence in Charlottesville, for example the opening monologues of Colbert, Kimmel, Seth Meyers, Trevor Noah and Samantha Bee have consistently out-thought Fallon.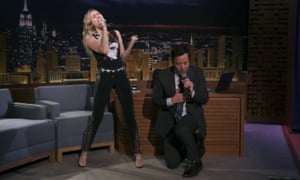 Read more: http://www.theguardian.com/us